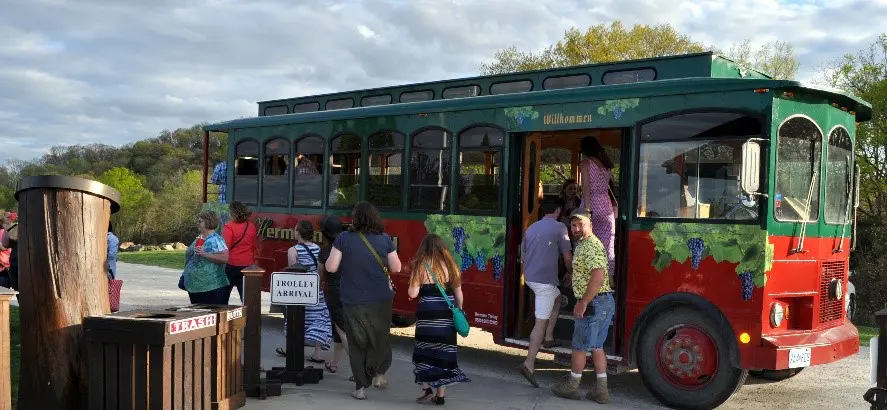 Transportation Options
Hermann Trolley Co.636-575-6920[email protected]
Rhine Valley Hermann Shuttle Service573-690-1102 or 573-943-6864[email protected]
301 Wharf Street
Amtrak's Missouri River Runner travels between Kansas City and St. Louis. Stops include Kansas City, Independence, Lee's Summit, Warrensburg, Sedalia, Jefferson City, Hermann, Washington, Kirkwood, and St. Louis Gateway Station. Connections are available to Chicago. There are daily stops in Hermann (HEM) at the Amtrak Station. Visitor information about Hermann is available in the waiting room. Restrooms, parking, accessible.
Visitor Information Center
Hermann Amtrak Station
301 Wharf Street (at Gutenberg)
Hermann, MO 65041
HERMANN CROWN SUITES TAXI & VAN SERVICE
403 South Market Street
573-284-4811
A private shuttle and taxi service offering transportation for Hermann Crown Suites guests and the general public in Hermann and some surrounding destinations. Available by cell phone or by prior arrangement to groups and individuals.
HERMANN MUNICIPAL AIRPORT
Identifier 63M
Hermann Municipal Airport is located across the Missouri River, four miles northwest of town.
201 East First Street (at Schiller Street)
636-575-6920
Privately owned, Hermann Trolley provides a safe, fun way for groups and couples to experience Hermann. Everyone can ride together to local wineries, distilleries, and small businesses around the town. Eat, drink, and enjoy Hermann, and leave the driving to Hermann Trolley.
Access two miles north of Hermann
The Katy Tail, the nation's longest rails-to-trails project, has an access trail leading safely over the Missouri River bridge to Hermann.
314-608-3202
Transportation in Hermann and surrounding areas. Includes meeting visitors at Amtrak station.
UBER/LYFT DRIVERS
Drivers are available in Hermann through the Uber and Lyft apps.
Trolley, taxi and shuttle services are privately owned and operated